Clueless about calculators? Get more clarity here!
You might be a little unclear on which calculators are appropriate for which exams. The short answer is that if a calculator is permitted in an exam – at least in England – then ANY calculator is fine*, as long as it's not one that you can program text into. However, different calculators have different capabilities so here's a guide to the ones you're most likely to come across.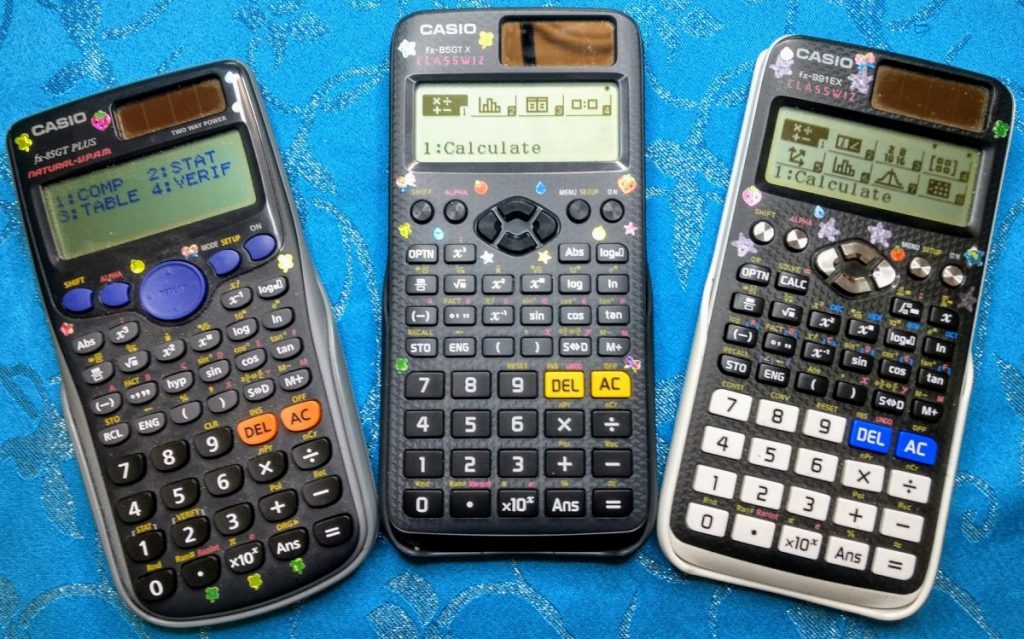 Which calculator should I get for GCSE Maths?
For GCSE Maths, you will need a scientific calculator, but just about any model will do; see AQA's guidance below for a list of the functions you need.
The standard GCSE model in the UK for the past seven or eight years has been the Casio Classwiz fx-83/85GT X (centre in the image), though in early 2023 Casio brought out the fx-83/85GT CW, which is very different and which has replaced the GT X (despite a poor reception from UK Maths teachers). More on that in this blog post.
The only difference between the 83 and 85 versions of each model is that the 85 is dual fuel, i.e. has a solar panel as well as battery power. The GT CW replaces the recently discontinued GTX, which in turn replaced the old fx-83/85GT Plus (shown to its left and discontinued some years ago), and usually costs around £16-£18, though if you're lucky you might find it for £11 or so in a promotion.
Schools should be telling you to get the CW now since that's the current model, but some haven't caught up yet and are still telling students to buy the GTX – which is now hard to get hold of new at a reasonable price. The same thing happened when the GTX replaced the GT Plus.

If you have the older GT Plus then it will still do everything you need for GCSE, so don't worry about that!
Texas Instruments also produces a range of scientific calculators. Any of these – most of which start with TX-30 – are suitable for GCSE, though if you like to be able to enter your fractions as fractions then you'll need one of the Multiview models. However, Casio pretty much has a stranglehold on the UK market and not many institutions promote the use of TI models.
If you have a really tight budget then you can pick up a scientific calculator in Asda or Wilko (they have a model that's similar to an older Casio) or even Poundland – just make sure you know where to find all the functions you need for your exam! – though a second-hand GT X or even GT Plus might be a better option.
It's also worth considering an A-level model, especially if you're doing the Higher Tier and there's a possibility that you might continue to study Maths in some form beyond GCSE.
Here's an extract from AQA's guidance for GCSE:
For GCSE Mathematics exams, calculators should have the following as a minimum requirement:
four rules and square
square root
reciprocal and power function
brackets
a memory facility
appropriate exponential, trigonometric and statistical functions.
For the purposes of this specification, a 'calculator' is any electronic or mechanical device which may be used for the performance of mathematical computations. However, only those permissible in the guidance in the Instructions for conducting examinations are allowed in GCSE mathematics examinations.
Which calculator should I get for A-level Maths?
The standard model for A-level, until early 2023, was the Casio Classwiz fx-991EX (right in the image above), which usually costs around £25-£30. However, it was then superseded by a new model called the fx-991CW, which has a very different layout and retails on the Casio site at £36. Unfortunately the EX has been discontinued, so we have no alternative but to adapt to the CW. More on the new models in this blog post.
The A-level models have additional functions such as solving quadratics and simultaneous equations which can be useful at GCSE too, as well as Statistics functions that you don't need until A-level. So if there's any chance of you continuing with Maths beyond GCSE then it's a worthwhile investment. (You'll probably need it if you do Core Maths too, though it does depend on which board and which modules you study. It – or an equivalent – is certainly required for the Statistical Techniques option on the AQA spec.)
The Texas Instruments equivalent is the TI-30X Pro Multiview.
Some schools/colleges may require you to buy a graphical calculator for A-level (Casio's flagship model is the CG-50, but the older fx-9750 GII has most of the same functions; the main difference is the lack of a colour display), but if you can stretch to a Classwiz too then it's good to have, as it's easier to use for some functions, and having a second calculator reduces the need to keep switching between modes. Don't worry, you are allowed to take two into the exam with you!

What do the rules say?
All of the models mentioned above are allowed in any exam where calculators are permitted*; there is no distinction between a calculator for GCSE and one for A-level as far as JCQ (who make the exam regulations) are concerned. You can find the JCQ regulations in section 10 of this document.
Guidance from the exam boards can be found on these pages from AQA, Edexcel and OCR. Also, this blog post from OCR goes into more depth on what's needed from a calculator at A-level.
*Note that, unlike the other exam boards, CIE (Cambridge International) does not allow the use of graphical calculators.
If you want to learn more about the useful things that the Casio calculators in the photo above can do, take a look at my new calculator skills course, which covers all five of the Casio models discussed above.
Interested in finding more resources to help you with GCSE Maths? Take a look at this blog post., or take a minute or two to explore the rest of my site.