How to achieve a Maths qualification as a mature student
Are you someone who always struggled with maths at school, and has tried to avoid it ever since… but now you find that you really need to become a mature student, or adult learner, and get a Maths qualification to progress in your career?
Where to go to get a Maths qualification
For most people, the best place for an adult learner to start is your local Futher Education (F.E.) College or Adult Education Service, where you'll be able to register as a mature student. They have funding to offer free courses and exam sittings to anyone who doesn't yet have a Level 2 Maths qualification (and the same for English). The main enrolment season is early September but they may have courses for adult learners starting at other times of year too, especially January.
When you enrol, it's likely that you'll be asked to take some kind of diagnostic assessment to gauge your level, and they'll advise you on what level of course would be most appropriate for you. You might be able to go straight in as a mature student on a GCSE course (probably at Foundation Tier; Higher Tier is really only for those aiming at Grades 6 and above and isn't commonly offered in adult learner settings), but they may recommend that you do a Functional Maths qualification first and work up to GCSE afterwards if you still need it.
If for some reason you are not eligible for, or able to attend, a free course, then you will need to book your exam through a private exam centre local to you, and make your own learning arrangements. More on independent learning resources here.
Which qualification?
A GCSE at Grade 4 or above will open lots of doors to you, but you might find that a Functional Skills qualification is sufficient for your needs. Functional Skills qualifications are available in Maths, English and ICT (Information Communication Technology – that's what they call IT in education these days). A Functional Maths qualification at Level 2 is equivalent in difficulty to a Grade 4 at GCSE – that's a Grade C in old money – but it only involves the aspects of Maths that you're likely to need in everyday life, and focuses on real-life applications of the skills.
It's a bit like having an automatic driving licence versus having a full licence that also allows you drive a vehicle with manual transmission; either way you need to know how to navigate the roads safely, but if all you want to do is drive an automatic car then the automatic licence is all you need.
The full list of levels for Functional Skills qualifications is Entry 1, 2, 3 and then Level 1 and Level 2. The Entry levels correspond roughly to primary school, and Level 1 is approximately in line with what schools cover in Key Stage 3 (the first three years of secondary school). You can find the subject content at each level for Functional Maths on the Ofqual site here, and the equivalent information for GCSE here.
Both the Functional Maths and GCSE qualifications are offered by several different exam boards and the format of the exams varies to a degree, but in general it's:
Functional Maths Level 1/2
Sittings available throughout the year
Either paper-based or online (usually at an exam centre)
Between 1 h 45 min and 2h 30 min
Either two papers, or one paper in two sections
25% of the marks are non-calculator; a calculator is permitted for the other 75%
GCSE Maths
Sittings available in May/June and November
Always paper-based and held at an exam centre
Three papers of 1.5 hours each
Paper 1 is non-calculator; a calculator is needed for Papers 2 and 3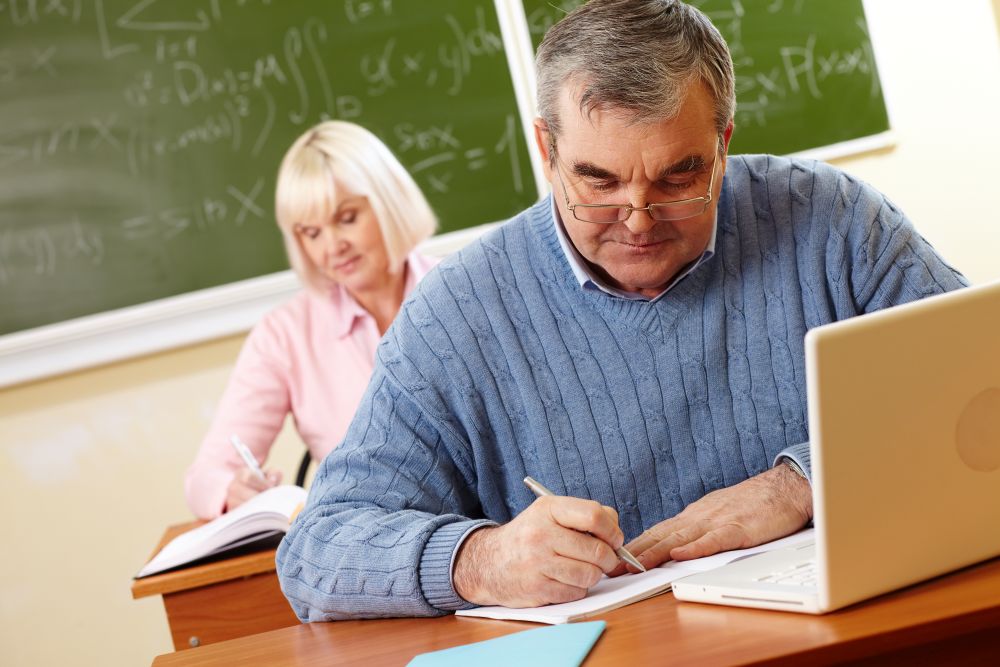 What should I expect as a mature student / adult learner?
Don't worry about being the only mature student in a class of teenagers; there will probably be adult learners of a wide range of ages in the group, from 19-year-olds in their first jobs, to mums who want a maths qualification in order to forge a new career for themselves now that their children have grown up and left home, to pensioners who left school at 15 without any qualifications and just want to prove to themselves that they can do it!
You're likely to be enrolled on a year-long course consisting of typically two hours per week (a bit more if you're lucky) of teaching. For an adult learner it might be either a daytime or an evening class. Two hours per week is not a lot, especially for a full GCSE course (in schools it's typically at least 4 hours a week for Maths or English), so you'll need to do quite a bit of independent work as well.
Independent study resources
If you are enrolled on a course then your institution might subscribe to an online service such as Mathswatch, HegartyMaths, MyMaths, etc., so do make use of that. This blog post provides links to a variety of other resources that you might find helpful, and this one advises on how best to prepare for a GCSE Maths exam (though it's relevant for other Maths exams too).
You might also like to take a look at my Grade 4 Essentials course for GCSE Maths, ideal for anyone who just wants to cover the topics needed to be confident of getting a Grade 4, either as a supplement to a taught course or to support them as independent learners.
Are you an adult learner who has taken a Maths qualification as a mature student, or looked into doing so? Please share your experience in the Comments below.