B28 Maths Tutor
Membership Programmes for A-level Maths
FIRST TWO WEEKS FREE!
Just fill in the form below for your discount code
What's it all about?
These Membership Programmes for A-level Maths are ideal for students who would like some extra support but don't need as much as a weekly 1-to-1 session
Separate groups for the first and second years of the course
Access to a private Facebook group where you can ask questions and help other students with theirs
A WEEKLY, HOUR-LONG, LIVE WORKSHOP TUTORIAL where I'll answer questions submitted by members
Tutorials will be recorded so you can catch up later
If there's time then we'll also do some work on commonly-requested topic areas or exam questions
Weekly subscription fee of £13 after the initial discount period
Course runs until the end of the summer term (Year 1) or summer exams (Year 2) but there's no tie-in; you can cancel whenever you like
OFFER ENDS 30th September!
[yikes-mailchimp form="2″]
Feedback and testimonials for B28 Maths Tutor

"Other tutors had told me it was not possible to improve a grade or two in A level maths , Lynne has shown me it is possible , in 3 months she has helped our sons confidence and achievement in maths . I would thoroughly recommend her for all levels and and am sorry that Coronavirus has temporarily ceased tuition , Thankyou Lynne for helping our son to achieve his potential and hopefully his uni aspirations"
— G.R.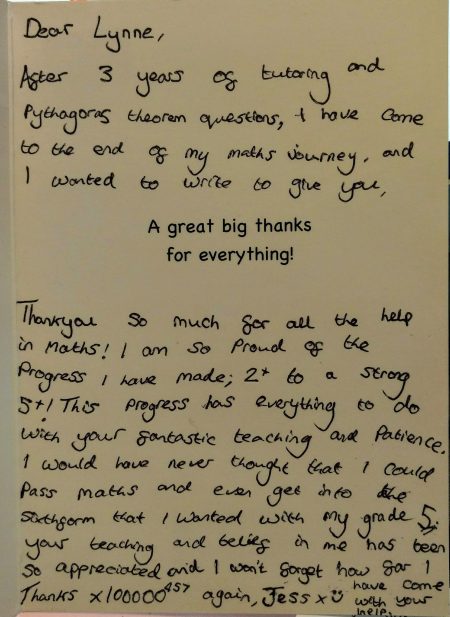 F— got a B and we are absolutely delighted 57/100. 3 marks off an A. Thank you so much for all your hard work I have no hesitation in recommending you to other people."

— M.S.
"I'm sure you will be pleased to hear A— got a 6 !! We are all very pleased and a bit surprised!"

— S.T.
"E— achieved a 5 and was very happy. Many thanks for giving her the confidence to believe she could pass."

— W.S.